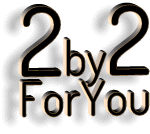 Welcome to 2by2ForYou. You will find an organization of individuals from all over the globe who are pursuing a higher quality of life.
Your membership includes a wide range of products, services and benefits. You will also have access to our wholesale section where you can purchase products at wholesale and sell to your retail customers.
You will find products that will save you money on all your everyday purchases, as well as all of your travel needs and give you the opportunity to earn an additional income from purchasing wholesale products and selling at retail.
We believe 2by2ForYou will provide you with an awesome opportunity to earn referral commissions as an Independent Distributor, where you can enjoy the benefits of financial independence, without the business headaches and without the risk. We believe we have an opportunity where you can spend more time with your family and take vacations as often as you would like and be in control of your time.
Before we tell you more about 2by2ForYou, we would like to ask you a few questions:
What would you do with your life if you had all the time and all the money that you might need?
If so, What kind of house would you live in?
What kind of car would you drive?
Where would you go on vacations?
For many people these questions are just a dream. 2by2ForYou is here to help you make those dreams come true. We are offering you an opportunity to achieve Financial Independence and everything you need in a home based business. Our business plan is simple, it's duplicable and it's very easy to get started. And best of all it is affordable and very lucrative.
Once again, we would like to welcome you to 2by2ForYou!
BE YOUR OWN BOSS - SET YOUR OWN HOURS - WORK AROUND YOUR BUSY SCHEDULE
Direct Sales is one of the easiest ways to earn money from the comfort of your own home. Over 15 million of Americans have turned to direct selling for part-time income or as a full-time career because of its flexibility.
Direct selling offers one of the finest entrepreneurial skill building opportunities in the world. Many people find that what they learn from creating a home-based business of their own serves them throughout their lives in ways they never would have dreamed. So whether you are looking to earn a little extra income to supplement paying for the essential, such as glasses or braces for your child, or pay off some bills, or take a family vacation, direct selling can be a very enticing way to supplement your income.
Direct Sales provides limitless opportunities.
For some, this means working a few hours a week and earning an income to help pay the bills. For others, it's a commitment of 40 or more hours a week with the goal of developing a network of marketing representatives below you whom you will train and mentor so they too can be successful. For still others it might merely be the desire to buy products and services one already uses, but at a discount.
The beauty of direct selling is that it's open to everyone, it's easy to get started, it's easy to drop out if you find it's not for you and, who knows, you might discover a whole new person inside you that you never knew existed.
Follow The Steps to Over $50,000 Per Month
Become an Independent Marketing Representative today!
As an Independent Marketing Representative, you will have the ability to earn an additional income by introducing others to the opportunity to owning their own home business. You will be placed in our unique 2x2 Compensation Structure where you can earn, in addition to any products you purchase at wholesale and sell at retail.
Over half (50%) of U.S. adults purchase products or services using the direct-selling retail channel during any given year. That's roughly equivalent to 150 million people in the US alone who make at least one purchase from a direct selling company in a 12-month period.
You will have access to your own replicated website, training materials, and so much more. You will also receive access to your 24/7 back office control center with a variety of products , services and promotional material.
When all is said and done, building a direct selling business is very much like having the opportunity to write your own story. It's about setting goals and achieving goals. It's about building an enterprise that is uniquely you. It's about your family – no one else's. It's about your dream. It's about your family's dream. It's about your romance with life. It's about falling in love with your own life. Go ahead, do something for yourself that you'll love.
For Additional Information